Previous Post:
stone range hood in high ceiling kitchen
&nbsp Next Post:
Consider a Unique Limestone Range Hood For The Perfect Kitchen
If you are considering the possibility of getting stone range hood, there are a couple of needs you need to bear in mind. For starters, the market has numerous designs for you to choose from and for the purpose of ensuring that you get one that compliments your individual needs, you can settle with custom design stone range hood. The light cast stone hood is designed to cover your kitchen exhaust system and it is placed above cook stoves. In addition to this, because of the manner in which these are designed, they also have a decorative touch and this further increases the appeal they offer.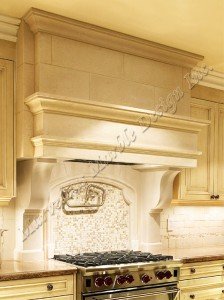 The limestone hood is designed using authentic and natural limestone. Because of this aspect, you can rest assured that they have also been formulated by some of the highly gifted sculptors. If you are interested in luxury kitchen hood, it is also possible to get the same and this goes a long way to make it easy for you to access a hood that is dynamic and yet, designed with a professional touch. The type of hood you choose also determines whether you are able to enjoy use of your kitchen and when selecting a design, it is always advisable to look at all the possible options before making a choice.
For example, you can choose to settle with the arch mantel stone hood or the high ceiling stone hood. Regardless of what you choose, make sure that it is the appropriate size and design for your kitchen for the purpose of ensuring that it is well complimented. The manufacturing process of the hoods will vary in accordance to the sculptors you choose and the experience they have. Therefore, it is important to ensure you weigh your options carefully when choosing a sculptor. This is the only way to ensure at the end of the day, you get a hood that perfectly addresses your needs and compliments your luxury kitchen.